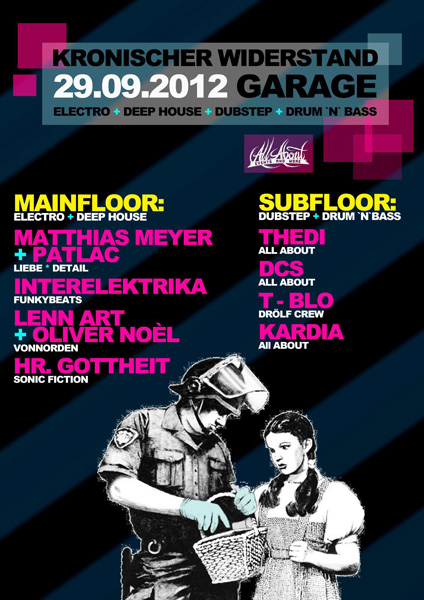 Am 29. September 2012, dem 2. Tag des Wiedereröffnungsmarathons der Lüneburger Garage, findet die mittlerweile 5. Ausgabe des Kronischen Widerstands statt! Wie gehabt wird es unten auf dem Mainfloor frischen Techno-/Electrop-/Deep House-Sound geben, oben auf dem Subfloor fette Drum'n'Bass- und Dubstep-Action, bei der natürlich auch wieder die All About-Residents DCS, Kardia und Thedi am Start sind, plus Gast-DJ T-Blo!
KRONISCHER WIDERSTAND Vol. 5
Samstag, 29.09.2012 ab 22h
Garage
Auf der Hude 72
21339 Lüneburg
Subfloor (Dubstep / Drum'n'Bass):
Thedi (All About / 13th Monkey)
DCS (All About)
T-Blo (Drölf Crew)
Kardia (All About)
Mainfloor (Electro / Techno / Deep House):
Matthias Meier & Patlac (Liebe*Detail)
Interelektrika (FunkyBeats)
Lenn.Art & Oliver Noèl (VonNorden)
Hr. Gottheit Wolf.Gang (Sonic Fiction)
Mehr Infos: ( Facebook-Event-Seite)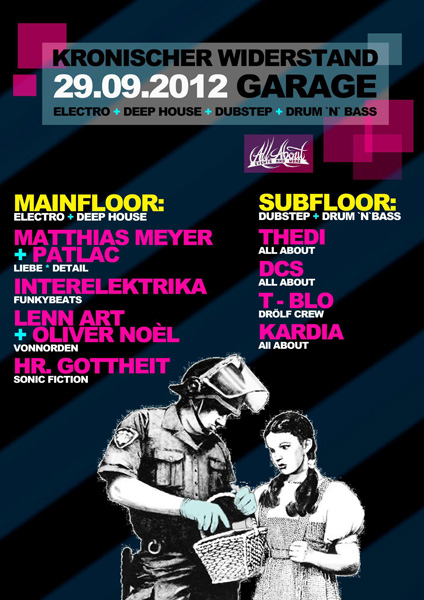 On September 29th, 2012 which is day 2 of the re-opening marathon of the Garage in Lüneburg the fifth issue of the Kronischer Widerstand will happen! As usual you will get fresh techno/electro/deep house sounds on the mainfloor and fat drum'n'bass and dubstep action on the subfloor brought to you by the All About resident djs DCS, Kardia and Thedi plus guest T-Blo!
KRONISCHER WIDERSTAND Vol. 5
Saturday, 29.09.2012 ab 22h
Garage
Auf der Hude 72
21339 Lüneburg
Germany
Subfloor (Dubstep / Drum'n'Bass):
Thedi (All About / 13th Monkey)
DCS (All About)
T-Blo (Drölf Crew)
Kardia (All About)
Mainfloor (Electro / Techno / Deep House):
Matthias Meier & Patlac (Liebe*Detail)
Interelektrika (FunkyBeats)
Lenn.Art & Oliver Noèl (VonNorden)
Hr. Gottheit Wolf.Gang (Sonic Fiction)
More info: ( Facebook event-page)