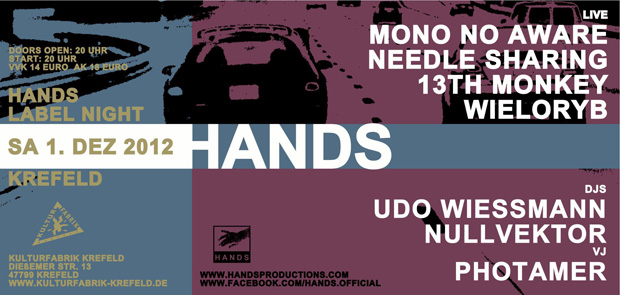 Am 1. Dezember findet in Krefeld in der ehemaligen Maschinenfest-Location Kulturfabrik die Hands Label Night statt. Live dabei: Mono No Aware, Needle Sharing, Wieloryb und 13th Monkey plus DJs Udo Wießmann und Nullvektor, sowie VJ Photamer.
HANDS LABEL NIGHT
Samstag, 1. Dezember 2012
Kulturfabrik
Dießemer Str. 13
47799 Krefeld
Einlass: 20 Uhr
Beginn: 20 Uhr
VVK 14 Euro / AK 18 Euro
Live:
Mono No Aware
Needle Sharing
13th Monkey
Wieloryb
DJs:
Udo Wießmann
Nullvektor
VJ:
Photamer
Mehr Info: -> FB Eventlink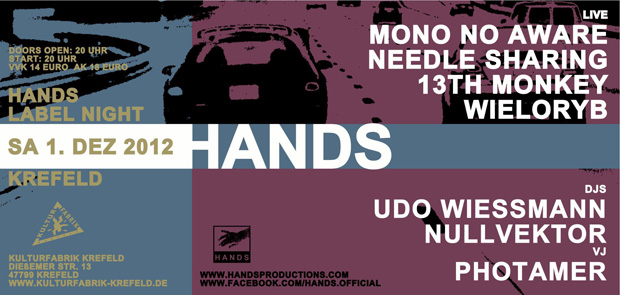 On December 1st, the Hands Label Night is happening in Krefeld (Ruhrarea) at the former Maschinenfest location Kulturfabrik. Live on stage: Mono No Aware, Needle Sharing, Wieloryb and 13th Monkey plus djs Udo Wießmann and Nullvektor and also vj Photamer.
HANDS LABEL NIGHT
Saturday, 1. Dezember 2012
Kulturfabrik
Dießemer Str. 13
47799 Krefeld
Germany
Doors open: 20.00h
Start: 20.00h
VVK 14 Euro / AK 18 Euro
Live:
Mono No Aware
Needle Sharing
13th Monkey
Wieloryb
DJs:
Udo Wießmann
Nullvektor
VJ:
Photamer
More info: -> FB Eventlink