Im Jahr unseres 13. Geburtstags erscheint am 26. April 2019 unser drittes offizielles Album "Abyssal Disruption" auf CD und Digital bei HANDS!
10 Tracks mit zusammen 73 Minuten Spielzeit, irgendwo zwischen Techno, Industrial, Acid und natürlich Digital Tech Fractures. Mit einem wundervollen Artwork von Nicola Bork, gemastert vom Chaos Compressor Club in Hamburg.
Das allererste 13th Monkey Konzert fand übrigens auch vor so ziemlich genau 13 Jahren am 28. April 2006 im Kulturclub Relax in Lüneburg zusammen mit Ambassador 21 beim Digital Hardcore Riot statt.
Auf Bandcamp könnt ihr schon reinhören und auch das Album vorbestellen:
Offizieller Infotext:
It's a matter of honour for 13th Monkey to return with their 3rd regular HANDS album to celebrate the 13th anniversary. Andreas Thedens and Harm Bremer promise to cause some abyssal disruption, and you better buckle up for its impact – still intensely rhythmic, with more bass, more noise, more of everything to shake the foundations and shatter genre boundaries once again. One might realize elements of industrial and noise, of techno and hardcore, but the result is the singular and unmistakeable 13th Monkey sound at any time.
"Abyssal Disruption" follows no certain concept, it's all about the ten tracks that the duo came up with during their good year of recording sessions; one can relate to the hands-on artistic approach, with their arsenal of drum machines, synthesizers and various other sound devices 13th Monkey have created a sound that could cause tsunamis and lay bare the creatures of the deep sea for sure. The central element of all tracks is the kick, the paradigmatic bang, accompanied by the time-keeping metrum of the hihats seething like a mad sidewinder. The tracks have a highly dynamic build and never seem to lose momentum, propelled forward by prominent signature sounds: Drum rolls ("Manic"), constant tonal variation ("Kraken"), a red alert ("Red Alert"), acid bleeps ("Exhibition") or highly distorted and treated 808/909 sounds, especially in "Grainz", "Tyrok" and "Paradigm" that add a wall of noise unheard in the Monkey's work so far. Yes, there's even room for the tongue-in-cheek submarine humour of "Squidlife".
Disruptive, physical and fun, "Abyssal Disruption" is a one-of-a-kind album and a display of state-of-the-art in handcrafted hard dance music.
Tracklist:
01. Manic
02. Grainz
03. Red Alert
04. Kraken
04. Paradigm
06. Tyrrok
07. Squidlife
08. Orwok
09. Golem
10. Exhibition
13TH MONKEY . Abyssal Disruption . cd/digital
cd in Hands paper pack . HANDS D269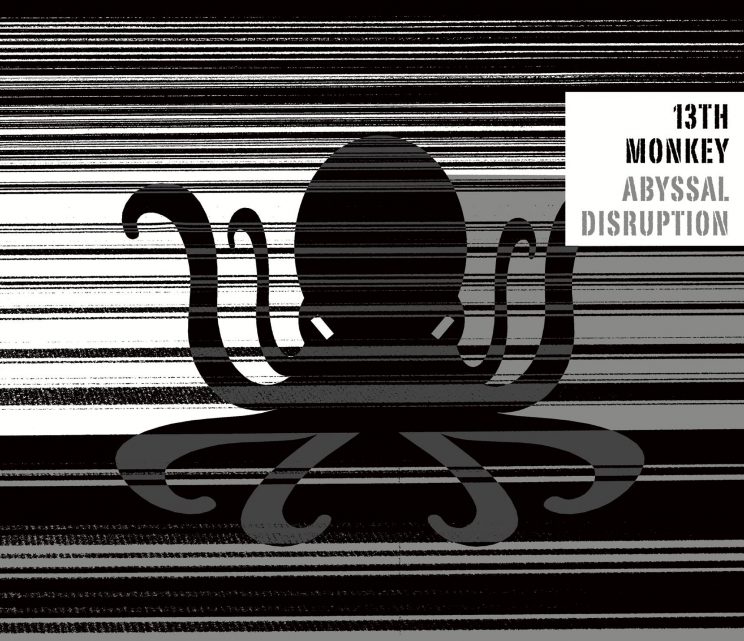 English:
In the year of our 13th anniversary and birthday our third official album "Abyssal Disruption" will be released by HANDS on April 26th 2019 on CD and Digital!
10 tracks with an overall playtime of 73 minutes, between techno, industrial, acid and also digital tech fractures. With a wonderful artwork by Nicola Bork, mastered by Chaos Compressor Club in Hamburg.