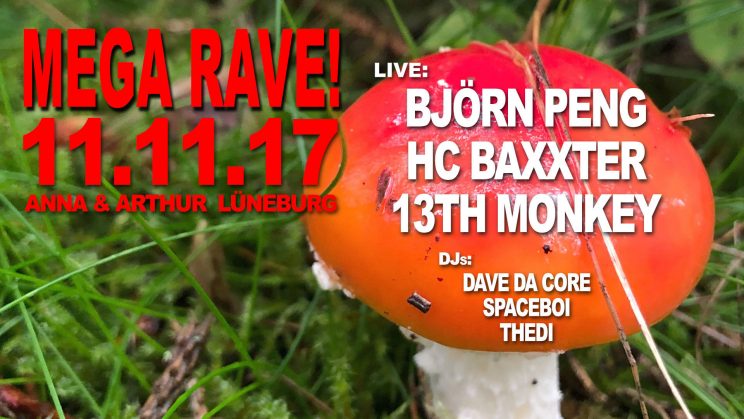 Am Samstag, den 11. November 2017 startet der Mega Rave! (mit Ausrufezeichen!) im Anna & Arthur Lüneburg! 3 Liveacts und 3 DJs werden feinsten Techno-Abriss abliefern! Rave und Techno und Feierei!
Den Abend eröffnen 3 technoide Musikprojekte, die den Konzertraum des Anna & Arthurs zum Beben bringen werden: Björn Peng, HC Baxxter und 13th Monkey! Nach dem Liveprogramm wird natürlich noch ordentlich weitergefeiert, wie sich das für einen "Mega Rave" gehört – bunter Rave-Abriss auf dem Partyfloor mit 3 DJs: Dave da Core, eine Hälfte der berüchtigten Inglorious Bassnerds, Spaceboi und Thedi.
MEGA RAVE!
Samstag, 11.11.2017
Doors: 20h
Start: 21h
Live:
Björn Peng (Dark Rave // Nakam Rec // Freiburg)
HC Baxxter (Rave Riot // Dorfpunkgang // Hannover)
13th Monkey (Digital Tech Fratures // Hands // Lüneburg)
Djs:
Dave da Core (Happy Hardcore // Freiburg)
Spaceboi (Techno // Lüneburg)
Thedi (Techno // Lüneburg)
Anna & Arthur
Katzenstr. 3
21335 Lüneburg
FB-Event: Link
On Saturday, November 11th, 2017 the Mega Rave! is happening at Anna & Arthur Lüneburg! 3 liveacts and 3 djs will bring you the finest techno stuff! Rave and Techno and Party!
3 technoid music projects will open the evening with loud bass sounds: Björn Peng, HC Baxxter and 13th Monkey! After the live part we will party on for sure – it is a "Mega Rave" as stated – finest rave techno sounds with 3 DJs: Dave da Core, one half of the Inglorious Bassnerds, Spaceboi and Thedi.
MEGA RAVE!
Saturday, 11.11.2017
Doors: 20h
Start: 21h
live:
Björn Peng (Dark Rave // Nakam Rec // Freiburg)
HC Baxxter (Rave Riot // Dorfpunkgang // Hannover)
13th Monkey (Digital Tech Fratures // Hands // Lüneburg)
Djs:
Dave da Core (Happy Hardcore // Freiburg)
Spaceboi (Techno // Lüneburg)
Thedi (Techno // Lüneburg)
Anna & Arthur
Katzenstr. 3
21335 Lüneburg
FB-Event: Link