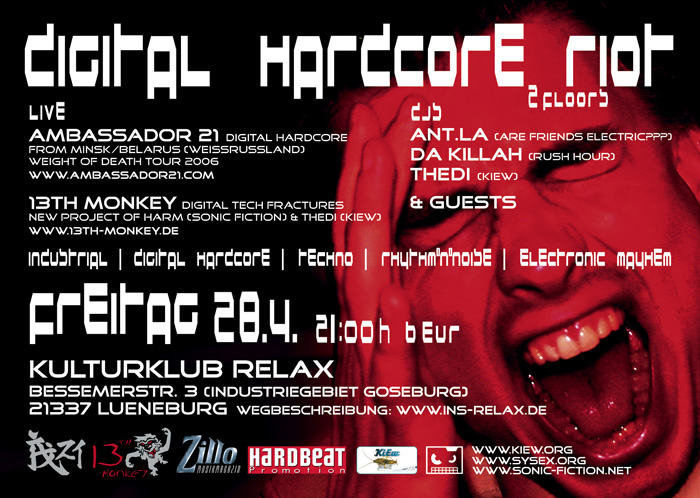 Vor genau 10 Jahren, am 28. April 2006 fand das allererste 13th Monkey Livekonzert statt! Zusammen mit unseren Freunden von Ambassador21 sind wir bei der von uns selbst-organisierten Party "Digital Hardcore Riot" im Kulturklub Relax (existiert nicht mehr) in unserer Heimatstadt Lüneburg aufgetreten, Thedi hat zudem noch (zusammen mit Ant.La und Da Killah) auf der Aftershow Party aufgelegt.
13th Monkey ist als Liveprojekt gestartet. 2006 haben wir noch in Leipzig, Erfurt, Amsterdam, Florenz und in Hamburg gespielt und die Sets fast immer mitgeschnitten und veröffentlicht (leider gibt es von dem allerersten Set in Lüneburg nur Videomaterial, da der Audiomitschnitt leider ausgefallen ist). 3 Jahre später haben wir unser Debutalbum "Redefining The Paradigm Of Bang" und 2011 das Nachfolgealbum "Return Of The Monkey" veröffentlicht, beide auf dem Label HANDS! Das dritte Album folgt in naher Zukunft, aber vorher wird noch unsere Liveset vom Forms Of Hands 2015 als der allererste Digital Release auf Hands veröffentlicht!
An dieser Stelle möchten wir uns auch bei euch allen für 10 Jahre Support bedanken: DANKE!
Hier noch ein Video von diesem denkwürdigen Abend:

On April 28th, 10 years ago, the first 13th Monkey live show happened! We played together with our friends of Ambassador21 at our self-organized party "Digital Hardcore Riot" at Kulturklub Relax (not existing anymore) in our hometown Lüneburg! Thedi was also djing (together with Ant.La and Da Killah) at the aftershow party.
13th Monkey started as a live project and in 2006 we also played live in Leipzig, Erfurt, Amsterdam, Firenze and Hamburg and released the recordings of most of our following live shows (sadly there is only video footage of the first show in Lüneburg as the sound recording failed on that night). 3 years later we released our debut album "Redefining The Paradigm Of Bang" and in 2011 the second album "Return Of The Monkey", both released on HANDS! The third album will follow in the near future, but before our live set at Forms Of Hands 2015 will be out soon as the first digital release on Hands!
We would like to thank you all for 10 years of support: THANKS!