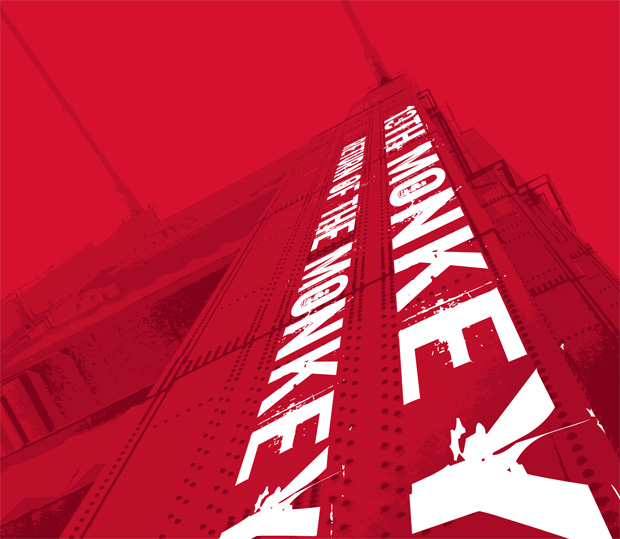 13TH MONKEY – RETURN OF THE MONKEY
CD. HANDS D167.
01. Korrosionsangriff
02. Piezo Resistance
03. Re:Thrilled
04. Kryophaze
05. Serratek
06. Syphon V2
07. Skulk
08. Sojifu
09. Apanum
10. Guenon
Das Album könnt ihr hier als Download und CD bestellen: BANDCAMP
Preview:

Die offizielle Release-Info:
The 13th Monkey's sophomore release carries a self-explanatory title again: This is the return of the Northern German duo that redefined the paradigm of bang! With their HANDS debut in 2009. They maintain the concept of real-time, live in the studio recording of jamming with tabletop sound gear, thus preserving the energetic fascination of their acclaimed live sets. Industrial Techno is the Monkey's territory, located in the golden triangle of the mighty 4/4 kickdrum, fizzling hihats and wiggling 303 lines. With an approach like that, the question is – how much can you change? The new album actually brings about quite a bit of change: While keeping the trademark structures of the debut, it appears to be less aggressive and straightforward on first listening. Generic acid lines are very sparingly used, instead this album is full of audio trickery, washes of noises, sound bits and oppressive atmospheres, emphasizing the Industrial aspects of the 13th Monkey sound. The opening title 'Korrosionsangriff' sets the mood for this trip, beneath crackling noises and dark, brooding atmospheres the rhythm clocks in well below 140 bpm. 'Piezo Resistance' is a prime choice for Rhythm Noise DJs, 'Kryophaze' a superb cut of Industrial Acid. Most tracks are around 145 bpm and superbly bass-heavy, typified amongst others by 'Re:Thrilled', a nice and vaguely EBM-ish example of the more subversive side of the 13th Monkey: Moody, threatening, full of tension, a track so ultimately urban in sound. Towards the end of the CD the band launches two longer tracks: The 10-minute rave bastard 'Sojfu', sporting surprising breaks and Japanese vocal samples, and the epic closing title 'Guenon': Starting with the quasi-rhythmic structures generated by carefully layered noises, before the kickdrum comes in and out time and again over the whole 16 minutes of this standout piece. Is there a genre called "Psychedelic Gabber" – this is the single-handed invention of it! How about the self-proclaimed objectives of 13th Monkey – digital fractures, revolution in the wires? Andreas Thedens and Harm Bremer have used their long-term expertise in music production to create an album that reflects various moods and extends beyond themes of aggression and subversion; it also takes a deep look inside and explores the darker realms of the human psyche. Yet, there is still plenty crossover appeal that will please fans of Rhythm'n'Noise and followers of more courageous Techno alike. With just two albums, 13th Monkey have not only developed a trademark sound, but also proven they can apply plenty of variation to it. Welcome back, Monkey!