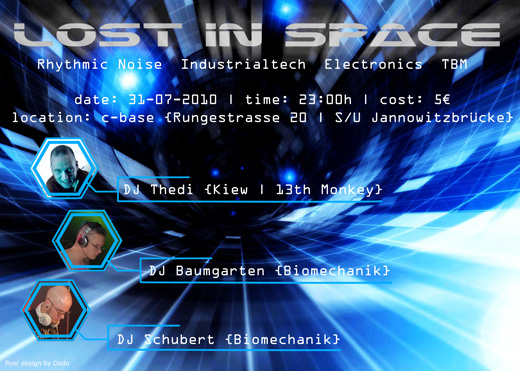 UPDATE 21.07.10: Leider wurde die Veranstaltung von der Location abgesagt, da es an diesem Datum Terminschwierigkeiten gibt und in so kurzer Zeit kein Ersatzclub gefunden werden kann. Der Termin wird auf jedenfall nachgeholt, wir halten euch auf dem Laufenden!

Am Samstag, den 31. Juli 2010 wird die Raumstation C-Base unter dem Kommando des Biomechanik-Teams mit den DJs Baumgarten und Schubert und Gast Thedi "Lost In Space" (in Berlin) sein! Beam Me Up!
LOST IN SPACE
C-Base
Rungestraße 20 (S/U Jannowitzbrücke)
10179 Berlin
Samstag, 31.07.2010, ab 23 Uhr
Eintritt: 5 €
Lineup:
Thedi (Sonic Fiction/Globalnoisemovement/13th Monkey)
DJ Baumgarten (Biomechanik)
DJ Schubert (Biomechanik)
UPDATE 21.07.10: Sadly the location cancelled the event on the 31st as there are problems with that specific date. The event will be postponed to a date later this year. We will keep you informed.

On Saturday July 31st, 2010, the spacestation C-Base under command of the Biomechanik-team including Baumgarten and Schubert and also guest Thedi, will be "Lost In Space" (in Berlin). Beam Me Up!