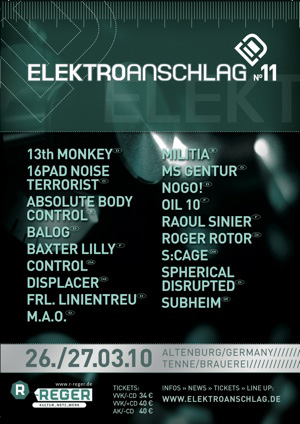 13th Monkey wird beim ELEKTROANSCHLAG 11 am 26./27. März 2010 in Altenburg spielen!
ELEKTROANSCHLAG 11
26./27.03.2010
Tenne / Brauerei
Altenburg
Lineup Elektroanschlag 11:
13th MONKEY (D)
16PAD NOISE TERRORIST (D)
ABSOLUTE BODY CONTROL (B)
BALOG (D)
BAXTER LILLY (F)
CONTROL (USA)
DISPLACER (CAN)
FRL.LINIENTREU (D)
M.A.O. (D)
MILITIA (B)
MS GENTUR (D)
NOGO! (D)
OIL 10 (F)
RAOUL SINIER (F)
ROGER ROTOR (CH)
S:CAGE (CAN)
SPHERICAL DISRUPTED (D)
SUBHEIM (GR)
Tickets könnt ihr online auf der Elektroanschlag-Webseite www.elektroanschlag.de kaufen.
Das 2 Tages Ticket kostet im VVK 34 Euro, wer gleichzeitig die Festival CD mitbestellt zahlt für Ticket plus CD 40 Euro. Das Ticket an der Abendkasse kostet 40 Euro (ohne CD), Tageskarten wird es ebenfalls an der Abendkasse geben.
Am Donnerstag, den 25.03.2010 wird es zudem wieder eine Warm-up-Party in der Villa Bar in Altenburg geben, bei der unter anderem ich auflegen werde! Der Eintritt ist frei!
Lineup Warm-Up Party:
M. (Connexion Bizarre / P)
JanaDark (TanzFront / RU)
PapaLoco (D)
Thedi (GNM, 13h Monkey / D)
25.03.2010 – Start: 20h
Villa Bar
Friedrich-Ebert-Str. 14
Altenburg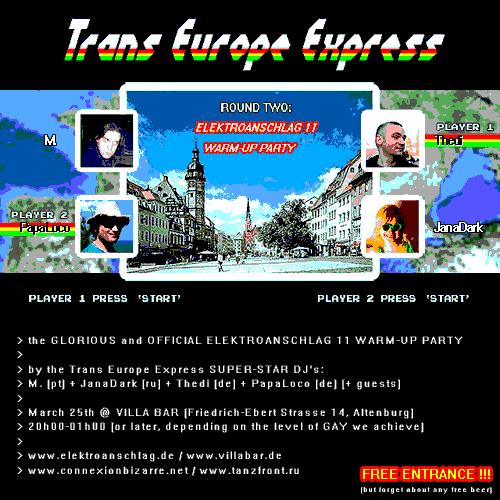 13th Monkey will play at ELEKTROANSCHLAG 11 on March, 26th/27th 2010 in Altenburg, Germany!
You can buy tickets for the event at the Elektroanschlag-website
The 2 days-ticket costs 34 euros, 2 days-ticket & Festival CD costs 40 euros. 2 days-tickets 40 euros (without CD) and day-tickets will be available at the box-office.
You are also invited to join the warm-up-party on the 25th of march, organized in the cosy Villa Bar in Altenburg. The entrance is free.