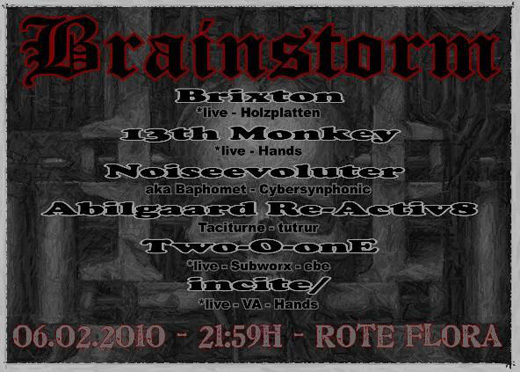 13th Monkey werden am Samstag, den 06. Februar 2010 live im Rahmen der Brainstorm in der Roten Flora in Hamburg auftreten!
BRAINSTORM
Sa 06.02.2010
Doors Open: 21.59h
Rote Flora, Hamburg
Achidi-John-Platz 1
Lineup:
– Brixton (live)
– Noiseevoluter
– 13th Monkey (live)
– Abilgaard Re-Activat8
– Two-o-onE (live)
– incite/ (live)
Vor Ort werdet ihr auch die Möglichkeit haben, die im Dezember erschienende Brainstorm Compilation 1 (inklusive einem unveröffentlichten Yakis Mix!) zu erstehen, die nur auf den Brainstorm Veranstaltungen verkauft wird: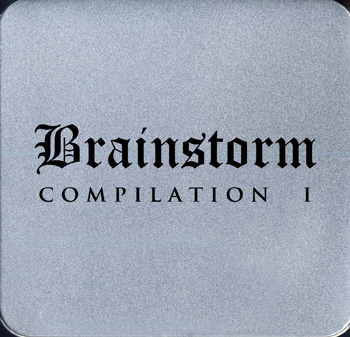 cd 1 – Black
braintro
ronny pries – acid haus
noiseevoluter – the way i like tekkno
gewalt in ton – lleps&kaeps yb deripsni
tails – dirt
boot-sector-viruz – welcome to the ghetto
lysergzwerg – fun-key
abilgaard re-activ8 – stalker
aggracid – areflexie
activists 69 – aggracid forever
brixton – holzflug ii
two-o-one – rest !n ac!d
cd 2 – Blue
kubark porn – de profundis (requiem)
acidboychair – last christmas (i gave you my heart)
gewalt in ton – another way to paradise
the acidizer vs. miro p. – headbanger's delight
mutterkorn – for da brain
t.a.g. – p. hakinson 1
incite/ – nonlocality
13th monkey – Yakis (extended brainstorm mix)
stan grewzell – the circuit
moleculez – space pigs in trains
kiew – harvey
global acid – aaot
dogmatech – banglassi
On Saturday, February 6, 2010 13th Monkey will play live at the Brainstorm party at the Rote Flora in Hamburg!
At the party you can also buy the Brainstorm Compilation 1 (including an unreleased Yakis mix!) which was released in December and is only sold at the Brainstorm events.