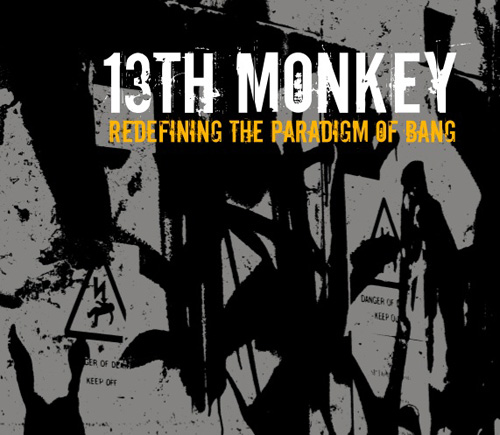 Da ist es nun, das 13th Monkey-Debütalbum! Offizielles Erscheinungsdatum (Label: Hands Productions) ist zwar erst der 30. Oktober 2009, jedoch liegt das gute Stück hier schon vor uns auf dem Tisch! 68 Minuten feinste Digital Tech Fractures, verpackt in einem markanten und stylishen Hands-Paperback. Alle Tracks (außer Tremor welches beim Avantgarde Festival in Schiphorst 2008 live mitgeschnitten wurde) sind 2009 in der Villa Keferstein in Lüneburg ohne Overdubs oder Nachbearbeitungen aufgenommen worden – lediglich der finale "Bang" wurde noch beim Mastering durch den Speedcore-Producer Robert Amar aka Bobby Tense in den legendären Kevorkian Masteringstudios in New York hinzugefügt!
Ihr könnt das Album ab sofort bei uns im Webshop ordern: KLICK
Die Trackliste:
01. Aktrus
02. Cedera
03. Oropax
04. Mister 29
05. Yakis
06. Anality
07. Monkey Bites
08. Axyt
09. Tremor (live)
10. A500
Und hier noch der CD-Releaseinfotext:
Redefining The Paradigm Of Bang is the best description for this 100% club compatible Techno Industrial project by the two sound artists and producers Andreas "Thedi" Thedens and Harm Bremer. While this project is based in Lüneburg, the album demonstrates that there is more than simply calm and beautiful landscapes and curly black haired sheep called "Heidschnucken" in the Lüneburg Heath. If you dive-bomb into the subsurface blow-hole you will find yourself in the middle of a wired rebellion and even cross the way of an anthropoid on the run: the 13th Monkey. The 10 tracks on this album were completely constructed using an array of tabletop hardware instruments programmed in real-time without the use of overdubbing, the mainstay of this project's energetic live sets, in a style self hailed as, Digital Tech Fractures. The final "bang" of this project's debut album was added by legendary speedcore producer Bobby Tense at the famous Kevorkian Mastering Studio in New York City. Expect 68 minutes of bass-driven and pounding tech-industrial tracks with distorted and screaming acid-like 303 sounds as extra ingredients. Monkey bites!
Here it is, the 13th Monkey-debutalbum! Official release date (label: Hands Productions) is October 30, 2009 but we have the cd already here on our table! 68 minutes of finest Digital Tech Fractures, packaged in one of the typical and stylish Hands-paperbacks. All tracks (except Tremor which was recorded live at the Avantgarde Festival 2008 in Schiphorst) were recorded in 2009 at Villa Keferstein in Lüneburg without overdubs or post-processing – only the final "bang" was added at the masteringg process by speedcore-producer Robert Amar aka Bobby Tense at the legendary Kevorkian Masteringstudios in New York City!