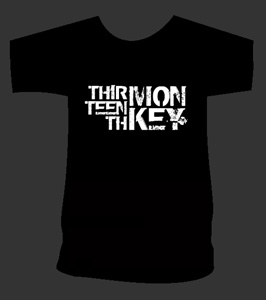 Der Sommer steht vor der Tür ist da! Das Frieren hat ein Ende!
Und damit ihr auch auf den ganzen Festivals und in der City schön trendig durch die Gegend rennen könnt und nicht nur tagein, tagaus im zugegebenermaßen ebenfalls sehr coolen und trendigen Spongebob Schwammkopf-Shirt ausgehen müsst, haben wir jetzt ein stylishes Shirt mit dem Logo des 13. Affen produziert!
Die Shirts befinden sich gerade im Druck und sind in knapp 2 Wochen bei uns, bestellen könnt ihr die Shirts jetzt hier im Webshop. Wir haben 70 Stück in die Produktion gegeben (50 Herren, 20 Girlies) – also nicht zu lange warten!
Die Shirts sind einseitig bedruckt mit dem 13th Monkey-Logo-Schriftzug (siehe Bild).
Es gibt Herren-Shirts für die "Boys" der Schöpfung in M,L und XL und Girlie-Shirts für die "Girls" in S und M.
Fashion Rules!
Summer is near is here! No more freezing!
In order that you don't have to wear your old (but nevertheless as I have to admit cool and trendy) Spongebob Squarepants shirt all day long we support you running around as trendsetter at the festivals and in the city and produced a stylish shirt with the 13th Monkey logo.
The shirts are in print right now and will be here in about 2 weeks. You can order them right now in the webshop. We ordered 70 shirts (50 men size, 20 girlie size) – so don't wait too long!
The shirts have a frontside print with the 13th Monkey-logo-writing on it (have a look at the picture if you can't imagine it). We have men-shirts for the "boys" in the sizes M,L and XL and girlie-shirts for the "girls" in S and M.
Fashion Rules!