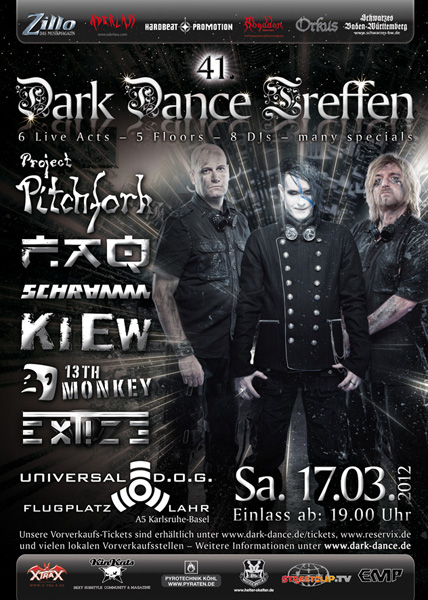 Am Samstag, den 17. März 2012 findet das 41. Dark Dance Treffen in Lahr statt! Neben 6 Liveacts auf 2 Floors werden 8 DJs auf 3 weiteren Floors und viele Specials für Unterhaltung an diesem Abend sorgen! Neben 13th Monkey spielen dort live KiEw, Project Pitchfork, FAQ, Schramm und Ext!ze!
41. DARK DANCE TREFFEN
Lineup:
PROJECT PITCHFORK
FAQ
SCHRAMM
KIEW
13TH MONKEY
EXTIZE
Samstag, 17.03.2012
Einlass 19 Uhr
Universal D.O.G.
(Flugplatz Lahr)
Fritz-Rinderspacher-Str. 1
77933 Lahr
Tickets und Infos: www.dark-dance.de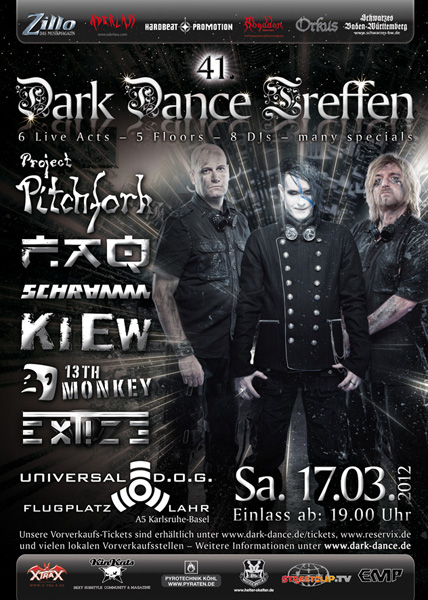 On Saturday, March 17th 2012 the 41st Dark Dance Treffen is happening in Lahr! Besides 6 liveacts on 2 floors, 8 djs on another 3 floors and a lot of specials will entertain you on that night! Besides 13th Monkey there will play KiEw, Project Pitchfork, FAQ, Schramm and Ext!ze!
41. DARK DANCE TREFFEN
Lineup:
PROJECT PITCHFORK
FAQ
SCHRAMM
KIEW
13TH MONKEY
EXTIZE
Saturday, 17.03.2012
Doors 19 Uhr
Universal D.O.G.
(Airport Lahr)
Fritz-Rinderspacher-Str. 1
77933 Lahr
Tickets and infos: www.dark-dance.de