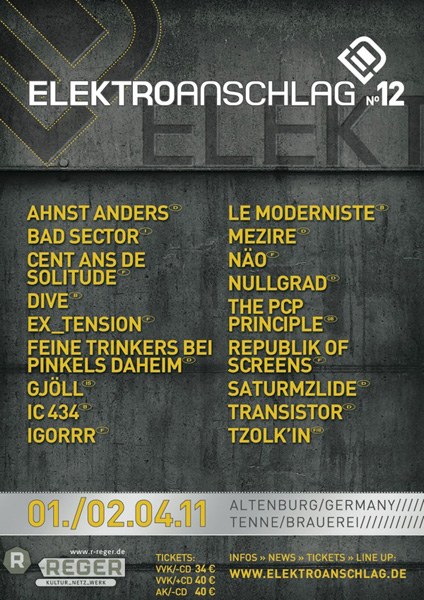 Vom 1. bis 2. April findet in Altenburg der 12. Elektroanschlag statt. Neben einem umfangreichen Live-Lineup wird es wie schon in den letzten Jahren zur gebührenden Einstimmung am Donnerstag, den 31.03. eine Warm Up-Party in der Villa Bar in Altenburg geben, bei der auch Thedi mit am Start ist. Der Eintritt zur Warm Up Party ist frei, Tickets für den Elektroanschlag 12 gibt es auf elektroanschlag.de. Nach dem Liveprogramm am Freitag wird es im Anschluss noch Beschallung von missonic & Thedi geben, am Samstag lassen es Heimstatt-Yipotash noch krachen.
ELEKTROANSCHLAG WARMUP-PARTY
Donnerstag, 31.03.2011
Villa Bar
Friedrich-Ebert-Str. 14
04600 Altenburg
DJs:
Paradroid (Audiphob)
Thedi (Globalnoisemovement / 13th Monkey)
PapaLoco (Irreversible)
Knüppel aus dem Sack (Belarus)
+ Guests
ELEKTROANSCHLAG 12
01. / 02.04.2011
Tenne / Brauerei
Brauereistr. 20
04600 Altenburg
Lineup:
Freitag, 01.04.11, ab 18 Uhr
Syntech
Transistor
Ex_Tension
Cent Ans De Solitude
Republik Of Screens
Nullgrad
Gjöll
Bad Sector
Tzolk'in
Aftershowparty: missonic vs thedi
Samstag, 02.04.11, ab 17.30 Uhr
SaturmZlide
Mezire
Näo
Feine Trinkers Bei Pinkels Daheim
Le Moderniste
IC 434
Ahnst Anders
Igorrr
Dive
Aftershowkonzert: Heimstatt-Yipotash
Mehr Infos: elektroanschlag.de
Elektroanschlag time! On April 1 and April 2, 2011 the 12th issue of the Elektroanschlag festival is happening in Altenburg! Besides an extensive live lineup a warmup party is held at the Villa Bar Altenburg on thursday, the 31st of March. Thedi is also djing there – and the entrance is free! Tickets for the Elektroanschlag 12 festival you can get here: elektroanschlag.de. On friday there will be an aftershow party djset by missonic & Thedi and on saturday Heimstatt-Yipotash will play a special aftershow liveset.
ELEKTROANSCHLAG WARMUP-PARTY
Donnerstag, 31.03.2011
Villa Bar
Friedrich-Ebert-Str. 14
04600 Altenburg
Germany
djs:
Paradroid (Audiphob)
Thedi (Globalnoisemovement / 13th Monkey)
PapaLoco (Irreversible)
Knüppel aus dem Sack (Belarus)
+ guests
ELEKTROANSCHLAG 12
01. / 02.04.2011
Tenne / Brauerei
Brauereistr. 20
04600 Altenburg
Germany
lineup:
Friday, 01.04.11, starting 6 pm
Syntech
Transistor
Ex_Tension
Cent Ans De Solitude
Republik Of Screens
Nullgrad
Gjöll
Bad Sector
Tzolk'in
aftershowparty: missonic vs thedi
Saturday, 02.04.11, starting 5.30 pm
SaturmZlide
Mezire
Näo
Feine Trinkers Bei Pinkels Daheim
Le Moderniste
IC 434
Ahnst Anders
Igorrr
Dive
aftershowconcert: Heimstatt-Yipotash
more info: elektroanschlag.de