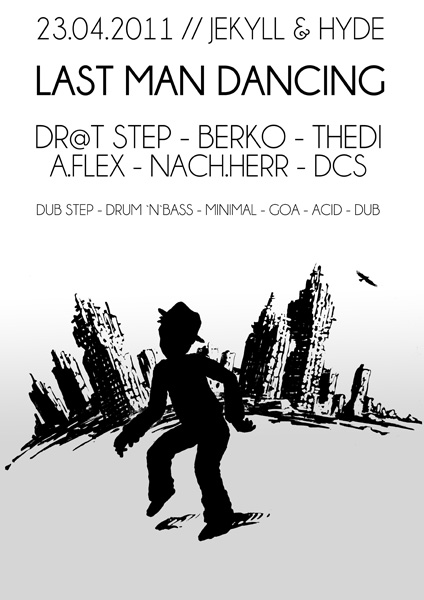 Ostern gibt es eine gehörige Portion Bass, Dubstep und Drum'n'Bass, sowie Minimal, Goa und Acid auf die Ohren:
LAST MAN DANCING am Karsamstag, den 23.04.2011, ab 22 Uhr im Jekyll & Hyde in Lüneburg! Mit am Start: Dr@t Step, Berko, Thedi, A.Flex, Nach.Herr, DCS.
LAST MAN DANCING
Dubstep – Drum'n'Bass – Minimal – Goa – Acid – Dub
Jekyll & Hyde
Altenbrückertorstr. 1
21335 Lüneburg
Beginn: ab 22 Uhr
DJs:
Dr@t Step
Berko
Thedi
A.Flex
Nach.Herr
DCS
Easter with lots of bass in your ears: Dubstep and Drum'n'Bass, but also Minimal, Goa and Acid – you will get everything here:
LAST MAN DANCING on saturday, April 23rd, 2011, starting at 10 pm at the Jekyll & Hyde in Lüneburg!