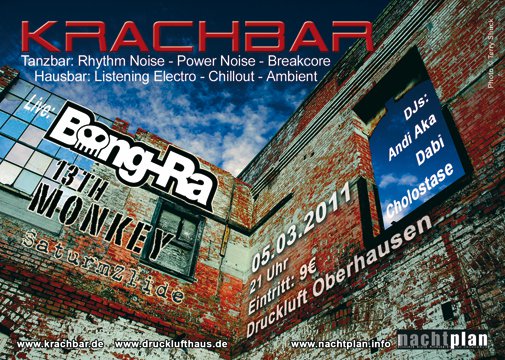 Am Samstag den 5. März 2011 werden im Druckluft in Oberhausen die Wände wackeln! Bei der Krachbar treten an diesem Abend SaturmZlide, 13th Monkey und Bong-Ra auf! Damit nicht genug – auf 2 Floors gibt es außerdem eine ordentliche Packung an Rhythm Noise, Power Noise, Breakcore, Listening Electro, Chillout und Ambient auf die Ohren!
KRACHBAR
Samstag 05.03.2011, 21 Uhr
Druckluft
Am Förderturm 27
46049 Oberhausen
Live:
Bong-Ra
13th Monkey
SaturmZlide
DJs:
Cholostase
Andi Aka
Dabi
Eintritt: 9€
Mehr Infos: KLICK
On saturday, March 5th, 2011 the walls of the Druckluft club in Oberhausen will shake! On that night SaturmZlide, 13th Monkey and Bong-Ra will perform at Krachbar and not enough – you will also get a fat package of rhythm noise, power noise, breakcore, listening electro, chillout and ambient on 2 floors!