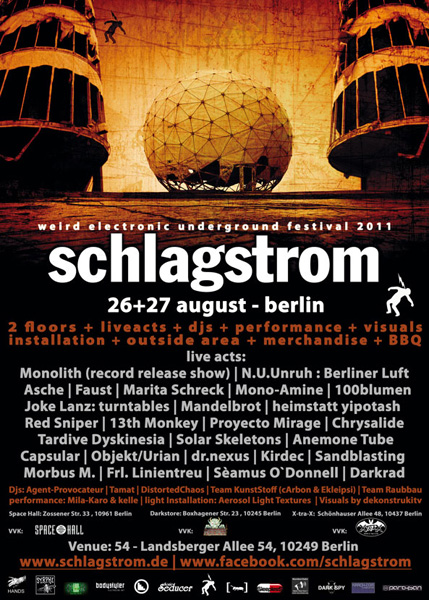 UPDATE 25.08.2011:
Achtung! Das Festival wurde leider kurzfristig abgesagt, da es Probleme mit dem Club gab und in so kurzer Zeit keine Ersatzlocation gefunden werden konnte. Mehr dazu hier: schlagstrom.de.
Ein kleiner Trost: Es wurde schnell für Freitag, 26.8. ein SCHLAGSTROM!-Miniclubevent zusammengestellt. Bei dem unter anderem auch 13th Monkey neben weiteren Acts & DJs spielen werden. Lineup und Timetable findet ihr hier: KLICK.
——–
13th Monkey spielen beim diesjährigen Schlagstrom Festival, welches in Berlin am 26. und 27. August 2011 stattfindet!
SCHLAGSTROM FESTIVAL 2011
26./27.08.2011
54
Landsberger Allee 54
10249 Berlin
Das Lineup:
Freitag, 26.08.:
Monolith
heimstatt yipotash
Proyecto Mirage
N.U.Unruh : Berliner Luft
Faust
Solar Skeletons
Sandblasting
chrysalide
Fräulein Linientreu
Floor 2
Joke Lanz: turntables
Anemone Tube
kirdec
seamus O´donenell
Samstag, 27.08.:
Asche
Mono-Amine
objekt urian
marita Schreck
Red Sniper
100blumen
13th Monkey
Morbus M
Darkrad
Floor 2
dr. nexus
Mandelbrot
Capsular
Tardive Dyskinesia
Perfomance "die Blechtrommel" in 12 minutes
Mehr Infos & Tickets: schlagstrom.de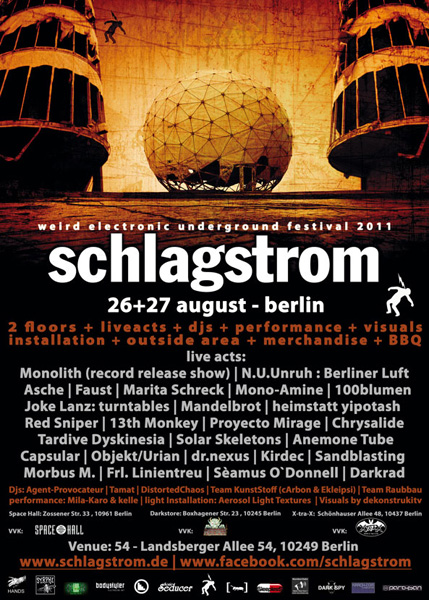 UPDATE 25.08.2011:
Important news! The festival had to be cancelled because of problems with the club. As it was not possible to find an other location in such short time this was the only way. More about it here: schlagstrom.de.
On Friday, August 26th there will be a small SCHLAGSTROM!-mini-club-event as substitute – besides other live acts and djs 13th Monkey will play also. For lineup and timetable see here: CLICK