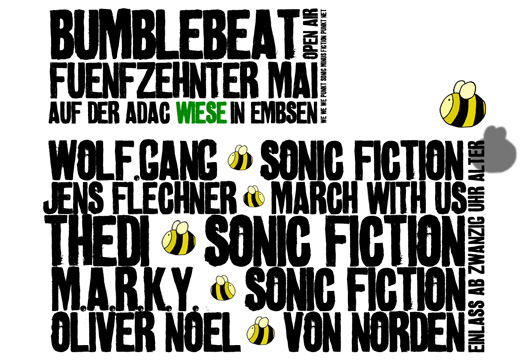 Schaut nicht nur raus, sondern bewegt euch draußen! Zeit für die ersten Open Air-Parties – natürlich mit Sonic Fiction-Beteiligung!
BUMBLEBEAT OPEN AIR
15.05.2010
ADAC-Wiese
Embsen bei Lüneburg
Lineup:
WOLFGANG (Sonic Fiction)
JENS FLECHTNER (March With Us)
THEDI (Sonic Fiction)
M.A.R.K.Y. (Sonic Fiction)
OLIVER NOEL (Von Norden)
www.sonic-fiction.net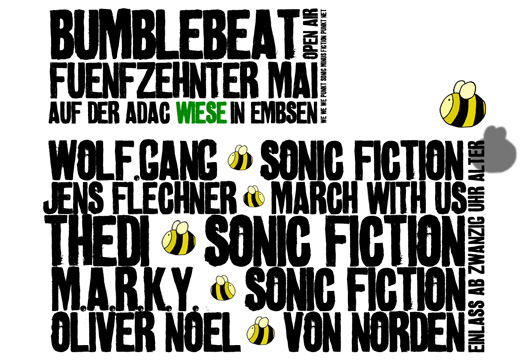 Don't look outside, move outside! Time for the first open air partys – for sure with Sonic Fiction involvement!
BUMBLEBEAT OPEN AIR
15.05.2010
ADAC-Wiese
Embsen near Lüneburg (GER)
lineup:
WOLFGANG (Sonic Fiction)
JENS FLECHTNER (March With Us)
THEDI (Sonic Fiction)
M.A.R.K.Y. (Sonic Fiction)
OLIVER NOEL (Von Norden)