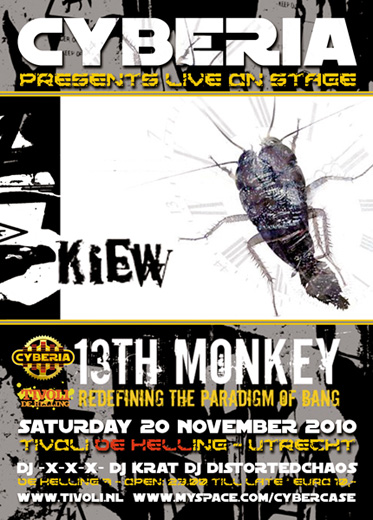 Nach dem überaus gelungenen Maschinenfest 2010-Wochenende geht es in 2 Wochen gleich weiter mit der Cyberia Party im Tivoli de Helling in Utrecht in Holland! Live auf der Party: KiEw und 13th Monkey!
CYBERIA
The Darkside of the Underground
Samstag, 20.11.2010, ab 23h Uhr
live on stage:
13TH MONKEY
KIEW
DJ -X-X-X-
DJ KRAT
DJ DISTORTEDCHAOS
Tivoli de Helling
Helling 7
3523 Utrecht NL
Update 20.11.2010:
– Timetable –
23:00-00:00: DJ
00:00-00:45: SHOW KIEW
00:45-02:15: DJ
02:15-03:00: SHOW 13TH MONKEY
03:00-05:00: DJ
After this fantastic Maschinenfest 2010 weekend we will be back again on the road the noise in less than 2 weeks: See KiEw and 13th Monkey live at the Cyberia party at Tivoli de Helling in Utrecht!