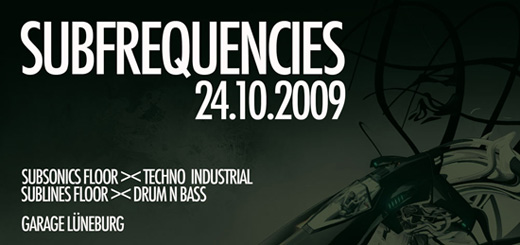 Am Samstag, den 24.10.2009 präsentieren euch Sonic Fiction und kiew.org zum ersten mal die SUBFREQUENCIES in der Garage Lüneburg. Auf zwei Floors werden Techno, Industrial und Drum'n'Bass vereint. Neben einem umfangreichen DJ-Lineup werden zusätzlich die beiden Lüneburger Acts 13th Monkey und KiEw, sowie das Dresdner Projekt Heimstatt Yipotash live zu sehen sein. Für die entsprechende visuelle Untermalung sorgen Aerosol Light Textures und diverse VJs. Die Tickets kosten 9 Euro an der Abendkasse und 7 Euro im Vorverkauf.
Das komplette Lineup:
SUBFREQUENCIES
Subsonics Floor (Techno / Industrial):
KiEw (live) – Out of Line
13th Monkey (live) – Hands
Heimstatt Yipotash (live) – Hands
Erich von Strohhalm – Sonic Fiction
Feldfunker – kreislauf.org
Ma-Cell – Nightbeat Booking
Sublines Floor (Drum'n'Bass):
Bassrk – Grindingecho
Grooveside – Therapy Sessions
Dopeman – Sublines
MC Spycz – BBC Bizznezz/Nu Era
+ Aerosol Light Textures
Location:
Garage
Auf der Hude 74
21339 Lüneburg
Links:
http://www.sonic-fiction.net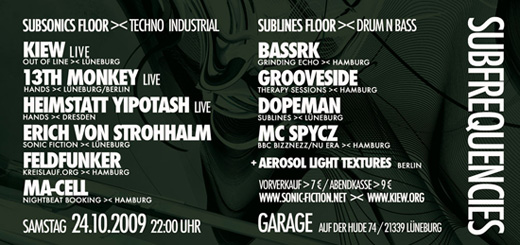 On Saturday, the 24th of October 2009 Sonic Fiction and kiew.org present you for the first time the SUBFREQUENCIES at the Garage in Lüneburg/Germany. You will get a mixture of techno, industrial and drum'n'bass on two floors. Besides a large dj-lineup you will also see (and hear) the projects 13th Monkey and KiEw from Lüneburg and Heimstatt Yipotash from Dresden live on stage. Aerosol Light Textures and several vjs will support the club atmosphere on the visual side. The fee for the tickets will be 9 euros at the doors and 7 euros at the presale.