Letzte Woche haben wir nach mehreren Sessions einen neuen 13th Monkey Track fertiggestellt und aufgenommen: Cedera.
Die Aufnahmen wurden am Samstag abgeschlossen und gipfelten in 2 finalen Versionen – einem knapp 6 minütigen Mix (krachcom.mix) für die krachcom.pilation Vol.2 und eine 8 Minuten Version für das kommende 13th Monkey-Album. Der krachcom.mix wurde gestern zusätzlich noch der "Robert Babicz (aka Rob Acid) Mastering-Behandlung" unterzogen und klingt jetzt noch fetter und runder. Am Abend haben wir dann noch weitergejammt und an neuen Patterns geschraubt – mit vielversprechendem Ergebnis.
Reinhören: 13thMonkey @ Soundcloud
Gear used: 2 Korg Electribe MX, 2 Korg Electribe SX, Korg Kaoss Pad 3, 2 Alesis ModFX Bitrman, Jomox M-Resonator, Mackie 1402 VLZ Pro, Monkeypower.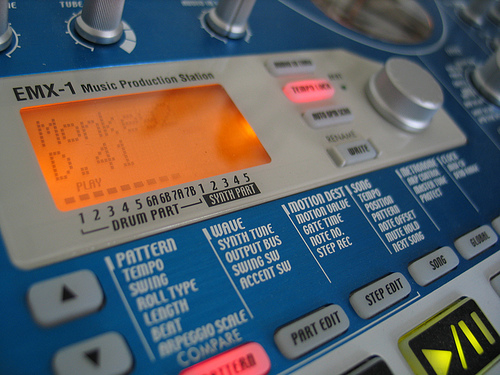 After some jam sessions we recorded a new 13th Monkey track last week: Cedera. The recordings were finalized on Saturday and the result were 2 versions – a nearly 6 minute long mix (krachcom.mix) for the krachcom.pilation Vol.2 and an 8 minute version for the upcoming 13th Monkey-album. The krachcom.mix also got the Robert Babicz (aka Rob Acid) mastering-treatment yesterday and now sounds even fatter. In the evening we went on jamming and building new patterns – with great results.
Listen to it on Soundcloud.