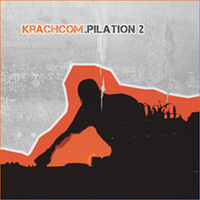 Frisch auf dem Markt ist die neue Compilation des krachcom-Forums, auf der auch ein neuer 13th Monkey-Track zu finden ist:
KRACHCOM.PILATION 2
Limited edition of 300 copies, distributed by ANT-ZEN.
Artwork By Claudia Fasold.
Erhältlich in unserem Webshop: KLICK.
TRACKS:
Adipocire – Zsako
[cryostase] – 26/04/1986
Tainted Corrosive Mist – #29
Tardive Dyskinesia – Harvester
Zero Degree – Vigil Coma (Helium Leak Mix)
(-LüP19490-) – 15 Kv Klangreich
[.dust] – Shelter Dwellers
13th Monkey – Cedera Mas (Krachcom.Mix)
Xetuum – Diamons
Soz.Io – Shit In – Shit Out
Carma-E-Lyth – One Day
Tonal Y Nagual – Proud To Be
ND – Ebola
TAKHTAHK – Away
KraftKammer – Bailout
Goat93 – Paradox View Part I
Just released – the new compilation of the krachcom-forum – including a new 13th Monkey-track!