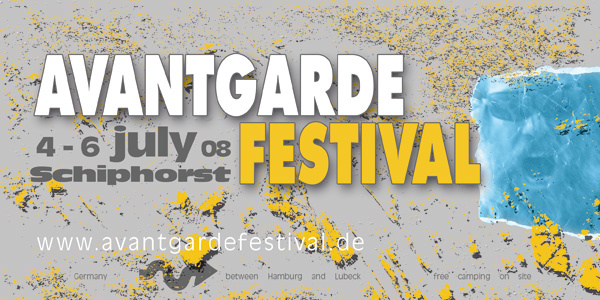 13th Monkey spielen beim diesjährigen Avantgarde Festival in Schiphorst!
4.-6. Juli 2008
Schiphorst (Schleswig-Holstein)
www.avantgardefestival.de
Lineup:
FREITAG 4. Juli:
die soiree beginnt um 18h
Boy Division ( hamburg)
Kommissar Hjuler und Mama Baer (flensburg)
Barbed ( london)
Mona Mur feat. En Esch ( ex kmfdm) ( berlin)
Manami (tokyo)
10pm Nurse With Wound (uk/usa)
Incite ( hamburg)
Traummaschine (valencia)
Xabec (leipzig)
SAMSTAG 5. Juli: 
die matinee startet um 10h
Moksha Medicine Sound System (usa)
Brian Mitchell/Chad Popple (usa)
Amniat (hamburg)
Stahl Quartett (dresden)
sambarellas & Capoeira (luebeck)
Electrix Garden (sandesneben/schnega)
die soiree startet um 19h
Black Carrot (market harborough)
Faust (f,a,uk,irl)
Dach ( bucarest,london)
Nad Spiro (barcelona)
The Grand Erector (london)
13th Monkey (lueneburg)
SONNTAG 6. Juli:
die matinee beginnt um 13h
Laborkester (nijmegen)
Platform 5 (london)
Samessina (sandesneben/trittau)
Kakawaka (berlin)
Pierre Chevalier/Reginald Trigaux (b/f)
Sternschuss Trio (israel/berlin)
Geoff Leigh (hasting)
Ivan Bellock (paris)
Dach (bucarest/london)
The Kosmische Djs (london)
Die folgenden Filmmacher, Soundmacher, Maler, Köche und Bartender werden zu verschiedensten Zeiten auftreten und ausstellen:
Elena Golovnina (moscow)
Rachael Tyrell (london)
Geraldine Swayne (london)
Ronny Waernes (bodo)
Adriano Lanzi (rome)
Chevaline (nz,uk,d)
Julien Perrin (paris)
Gugu Flux (schnega)
Morgen Wurde(kiel)
JohnO Osbourne (london)
Alan and Steven (london)
13th Monkey will play at this year's Avantgarde Festival edition in Schiphorst!