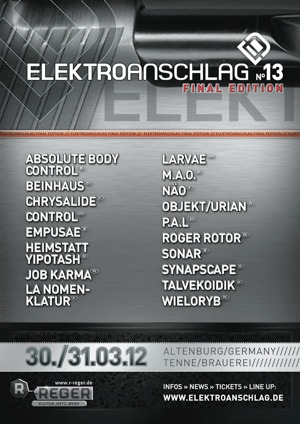 Elektroanschlag time! On March 30 and March 31, 2012 the 13th issue of the Elektroanschlag festival is happening in Altenburg – sadly for the last time and the final edition! Besides an extensive live lineup a warmup party is held at the Villa Bar Altenburg on Thursday, March 29. This year's warmup will include two liveacts (Frl. Linientreu and Tardive Dyskinesia) and two DJs (Paradroid and Thedi).
The entrance is free at the party, tickets for the Elektroanschlag 13 festival can be bought at the door. After the live shows on Friday and Saturday there will be DJ noising on both nights – Friday presented by Team Raubbau and on Saturday by Paradroid and Thedi.
As this is the "final edition" this year the Elektroanschlag compilation will consist of a 6 cd-boxset including more than 80 bands that played live at Elektroanschlag in the last 13 years (including 13th Monkey).
ELEKTROANSCHLAG 13 Warmup Party
Thursday, 29.03.2012
Villa Bar
Friedrich-Ebert-Str. 14
04600 Altenburg
Germany
DJs:
Paradroid (Audiphob)
Thedi (Globalnoisemovement / 13th Monkey)
Live:
Frl. Linientreu
Tardive Dyskinesia
ELEKTROANSCHLAG 13 – Final Edition
30. / 31.03.2012
Tenne / Brauerei
Brauereistr. 20
04600 Altenburg
Germany
Lineup:
Friday, 30.03.12
doors open – 18:00
HEIMSTATT YIPOTASH
BEINHAUS
TALVEKOIDIK
LA NOMENKLATUR
EMPUSAE
CONTROL
SYNAPSCAPE
ABSOLUTE BODY CONTROL
ROGER ROTOR
DJ Music: Team Raubbau
Saturday, 31.03.12
doors open – 17:30
M.A.O.
P.A.L
JOB KARMA
WIELORYB
OBJEKT⁄URIAN
LARVAE
CHRYSALIDE
NÄO
SONAR
DJ Music: Paradroid & Thedi
more info: elektroanschlag.de