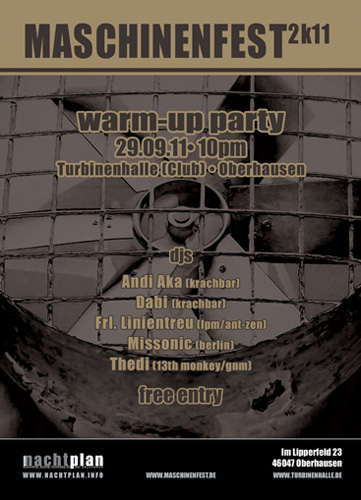 From September 30 to October 2 the Maschinenfest 2011 is happening at the Turbinenhalle in Oberhausen!
Besides an extensive live lineup on 3 days (have a look below), on thursday, September 29 the official warmup-party is happening at the club of the Turbinenhalle. Behind the desks: Andi Aka, Dabi, Frl. Linientreu, Missonic and Thedi.
MASCHINENFEST 2k11 WARMUP-PARTY
Thursday, 29.09.2011, starting 10 pm
warmup party: free entry!
Turbinenhalle (Club)
Im Lipperfeld 23
46047 Oberhausen
Germany
DJs:
Andi Aka (Krachbar)
Dabi (Krachbar)
Frl. Linientreu (LPM / Ant-Zen)
Missonic (Berlin)
Thedi (GNM / 13th Monkey)
——–
And here is the complete lineup and timetable of the Maschinenfest:
MASCHINENFEST 2k11
30.09. – 02.10.2011
Turbinenhalle Oberhausen
Im Lipperfeld 23
46047 Oberhausen
Germany
timetable:
friday 30.09.2011
17:00 doors open
18:00 DIRK GEIGER
19:00 SPHERICAL DISRUPTED
20.00 AHNST ANDERS
21:00 SUICIDE INSIDE
22:00 IGORRR
23:00 XABEC
00:00 CONTAMINANT
01:00 EMPUSAE
02:00 SYNAPSCAPE
saturday 01.10.2011
17:00 doors open
18:00 THE_EMPATH
19:00 MOBTHROW
20:00 16PAD NOISE TERRORIST
21:00 ATRABILIS SUNRISE
22:00 NÄO
23:00 PANKOW
00:00 THOROFON
01:00 THIS MORN´OMINA
02:00 NEEDLE SHARING
sunday 02.10.2011
15:00 doors open
16:00 SAAL5
17:00 KIRDEC
18:00 WIELORYB
19:00 DAZZLING MALICIOUS
20:00 MARITA SCHRECK
21:00 BALKANSKY & LOOP STEPWALKER
22:00 CONTAGIOUS ORGASM
23:00 IMMINENT
00:00 LUSTMORD
More info: maschinenfest.de